Ministries
We are people-driven church, not program driven. Ministries exist to meet the spiritual, emotional, physical, psychological needs of people. But, they also provide opportunities for members to grow in maturity in Christ through giving to others. GCCC ministries provide opportunities for you to serve others and actively pursue fulfilling God's purposes for your life.
Small Groups - Women - Men - Home - 8 ATE and more!
God created us to live in community: to gather together, to encourage and challenge one another- to discover how God is calling each of us into a deeper relationship with Him, each other and the world. For many of us, trying to understand this three-fold relationship can be problematic. Although we are in the large congregation on Sunday and receive God's word we sometimes neglect developing close relationships.
Small Groups offer a safe place to connect with other believers in fellowship. Our purpose is simple - to grow in our understanding of God and our role in His plan for our life whether it is by ministering to others, becoming equipped to share Christ's message or developing a lifestyle that worships God. It is our firm belief that life change happens best in community. We believe that when people gather in groups with a shared mission to pursue God, to love one another, and to serve others - God tends to show up and do amazing things!
"Jesus replied: 'Love the Lord your God with all your heart and with all your soul and with all your mind. This is the first and greatest commandment. And the second is like it: Love your neighbor as yourself.'" Matthew 22:37-39
8 ATE GROUPS - Gather, Eat, Rotate, Repeat

8 ATE groups are Granite Creek's way to get connected, meet some people and enjoy a meal together. 8 people gather for dinner, in a home, a park or a restaurant. The group meets 4 times over 4 months, rotating "host" homes. "Host" provides main dish and drinks, others bring side dish, salad, or dessert. Sign up on the Connect Card and drop in the offering on Sunday, or email Pastor Janie, janie@granitecreek.org.

If you are interested in hosting, leading or just attending a small group, 8 ATE Group or HOME Group contact Pastor Janie at the church office or email by clicking here.
Wednesday Night Study
Granite Creek is offering multiple options for Wednesday nights meeting at the church location, 1580 N Claremont Blvd. We are just north of Foothill Blvd & Monte Vista. Classes and small groups run 7:00pm - 8:30pm.
Children's programs are available for kids nursery age through high school.
For more information contact Pastor Joshua or Pastor Janie.
KIDCARE INTERNATIONAL
"A Call to Help Haiti" from Granite Creek Community Church on Vimeo.
KidCare International is a humanitarian relief and mission's organization founded by our pastor, Larry Kapchinsky. KidCare provides food and clothing to disadvantaged children and their families around the world. In addition to its humanitarian efforts, KidCare is actively involved in planting churches in Russia and supports pastors and their efforts to serve the poor in Africa, India, Haiti, Mexico, Romania, and Albania. KidCare ships ocean freight containers filled with relief goods, and believes in taking the "hands on" approach to insure that the needy families are benefited. Teams regularly travel to Russia and Africa and representatives have been sent to Yugoslavia and Kosovo (during the war), as well as Colombia.
The Men's Ministries
Mission Statement- To prepare today's men to lead Godly lives, being fully alive and equipped with the armor of God's word. To encourage men, in their relationships at home, work, community, and church.
"But you are a chosen people, a royal priesthood, a holy nation, a people belonging to God, that you may declare the praises of him who called you out of darkness into his wonderful light." 1Peter 2:9

Equipping Men
Fierce challenges face men of God in today's world. To prepare them for the fight, Men's ministry at GCCC is committed to equipping their men to be salt and light in their families and communities.
Children's Ministries
1 Timothy 4:12 (NIV)
Don't let anyone look down on you because you are young, but set an example for the believers in speech, in life, in love, in faith and in purity.
Director Sara Frias
At Granite Creek, kids are a priority. One of our values is to see kids grow up to become everything God created them to be as they develop a personal faith and relationship with Christ in a safe and loving environment.
Mission Statement
Partnering with parents in providing experiences that will meet their child's mental, emotional and spiritual needs so that their children will become fully devoted followers of Christ.
All of our Children's Workers have been screened through a seven point security process which includes: the Dept. of Justice, the DMV and a background check. Our curriculum (from 2 year olds - 5th grade) is interactive and includes a variety of components to accommodate various learning styles. We present the Gospel in age-appropriate ways. We are firm believers that while the method of communicating the Gospel can -and does change, the message of God's love and plan of salvation does not. Our schedule includes worship, large group meeting (main lesson) and small group (life application and relationship building).
Nursery
Our nursery serves infants through non-potty trained 2 year olds and is located on the first floor.
When a baby is checked in, the parent will be given a numbered four part tagging system. One of the parts will have the child's name and parent info and is attached to the child's back, two others will be used for identifying the diaper bag and bottle/cup and the fourth part stays with the parent.
The child will only be given to the person with the corresponding numbered tag. If your child has allergies or special needs, we ask that you notify the nursery staff so that we may be sure to meet your baby's needs.
Preschool
The Preschool Dept. serves potty trained 2 year olds through Pre- Kindergarten and is located on the first floor. We ask that the children not bring toys, bottles or cups from home. If your child has a security blanket or animal, be sure to label it with your child's name. Children must be checked in and out by a parent. Please fill out a family info card on your first visit.
Elementary
Our Children's Ministry serves children from Kindergarten through 5th Grade and is located on the second floor. Children must be checked in by a parent. Please use the special tag given at check-in to to pick your children up after service.
Special Needs Kids: THRIVE
Granite Creek Community Church wants all who attend to have an opportunity to be included in services and classes, despite disabilities.If you have a child with special needs, please connect with Sara Frias, Director of Children's Ministry, before Sunday morning. This way we can discuss how to best serve your child's needs.

For more information contact Sara Frias at (909) 625-4455 or email sara@granitecreek.org.
---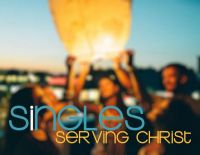 Granite Creek's Singles Serving Christ (SSC) group is a co-ed group comprised of working professionals between the ages of 30-45, who are unmarried, divorced, or single parents. We seek to cultivate an environment where people can grow in Christian maturity, enjoy genuine fellowship, cultivate life-affirming friendships, and have fun! We host Bible study home group and regular …
Read More »